Biggest Loser Challenge Week 4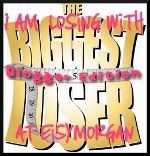 Alright ladies...how's it going??? You know if you have already joined us that I emailed about my FUNKY week. This is the thing, not only was it Valetines week we also got our tax return back and so it was like the week turned into a big party, and the truth is, eating is included in my celebrating. I felt so blah this week. Just keepin it real, and I haven't even done my weightloss blog entry from last week!! Sorry.
I am so proud of all of you guys tho for jumpin in there on the emails and encouraging one another, and me! That is what it is all about.
So, I am going to start again and that is what it's about right? We fall down, then we get back up! I just get so annoyed with myself for not doing it! It's like "2 weeks??? That's all you got in you??" and I answer, "yep, oh well". I annoy MYSELF! ha ha
So here is the blogging challenge for this week:
Why do you think it is so hard sometimes or all the time?
What are you telling yourself about your success or failure?
Thoughts from Geneen Roth:
"At some point - now - it's a leap of faith. You decide that you're worthy. You decide to let yourself delight in one thing, one sensation that isn't taste. You decide to forget the judgment about your body long enough to remember the brilliance that is being alive!!
Email me if you need links or would like to join in!!