Inspired by YOU Wednesday! A Link Party!!
8:00 PM
Hey all!
I am jumping in on the fun and hosting a linky party for you all to join every Wednesday here at EisyMorgan. This blog is all about inspiration so I would love to see your best and most inspiring posts of the week!
Every week I will also do features to highlight some amazing ideas and work by you all!
Just a few simple rules to make the party fun!
1)Follow me! If you are a new follower make sure that you leave a comment so I can say HI!

2)Link to your blog post and not your blog:)
3)Add the "Inspired by YOU" party button to your post so others can take part!!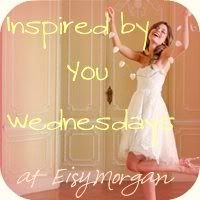 4)Visit and comment on the two people above yours! Comments are all about mutual blog love and growth! Believe me, the more love you leave the more your blog will grow...it's really to your benefit!!


That's it, just link up and share your best inspiration with us! It can be anything you created whether a great blog post, great photos, craft, outfit, whatever you have been working on this past week!
(No Etsy shops, I hope to get promos for all of you very soon!)