Inspired by YOU Wednesday! A Link Party!! & FEATURES!!
10:19 PM
Thank you so much for making my first
"Inspired by YOU Wednesday"
a success by linking up your amazing projects!
It was deffinitley inspiring!!
I had to highlite just a few of the awesome projects we had...
Over at Junk Restore she had this amazing coffee table made from a pigeon crate!
I love her home decor style!
And Rachel at Bubbly Creations where she turned an old leather purse into an awesome headband!!
(and she has a tutorial!!)
Just a few simple rules to make the party fun!
1)Follow me! If you are a new follower make sure that you leave a comment so I can say HI!
2)Link to your blog post and not your blog:)
3)Add the "Inspired by YOU" party button to your blog somewhere so others can take part!! Link party pages are FINE!!!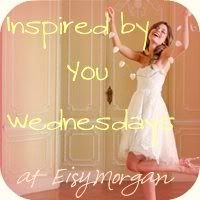 4)Visit and comment on the two people above yours! Comments are all about mutual blog love and growth! Believe me, the more love you leave the more your blog will grow...it's really to your benefit!!
That's it, just link up and share your best inspiration with us! It will be open until Thursday night so there is plenty-o-time! It can be anything you created whether a great blog post, great photos, craft, outfit, whatever you have been working on this past week!