I have come across so many pictures of celebrities who are on the red carpet with braided hair. (I even saw several of the girls on the Bachelor last night sporting them) There are so many ways you can incorporate them into your hair in an every day way or for a nice night out. Here are a few of the styles I have come across.
This tutorial is a similar style to this last one.
If you would like me to do any of the others shows, let me know!
Enjoy!
I'm participating in these parties!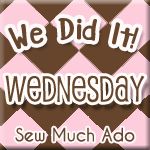 Today's Creatve Blog