Biggest Loser Challenge Week 3
10:29 AM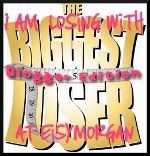 I can't believe how fast these past two weeks have gone by! How is everyone doing??
If you are new here, please join us! We had new additions even last week, because it is NEVER too late! Just email me where you will be posting, I know this is a sensitive subject all!
Thank you so much for everyone who has kept it real with where they are and how they are struggling or being strong. Just remember that every day is a day to get up and try again, to make different choices that day then you did before. Believe me I am telling this to myself more than you!! I am so all or nothing I think if I have one off day that I should just give up, but that is not helping anything!
I think I read most everyone's blog posts, but it is hard to miss a few here and there! Email it to me or send me the link in these comments or my weight loss blog comments so I can make sure to be able to encourage you, and yes, I need encouragement too. You can't believe how much your support has helped me already!
Blogging Challenge for the week:
How are you feeling? About yourself, eating, weight loss?
Have you noticed any changes big or small?
What are you going to try different this week? (Eating fish once this week, drinking ALL the water, taking a walk..it can be anything)
More thoughts from Geneen Roth:
" Although we might not recognize this reality, being thin can carry a burden of it's own. For instance, if I feel that when I am thin I mist be vivacious and socially active, and I am a solitary human being by nature, I am not going to want to get thin. I will unconsiously block myself from achieving my goal-even while staying frustrated and impatient that I can't reach it. It is therefore important for us to be aware of what we believe about being thin, and most especially, what those things are that are important for us to do, that we believe we won't be able to do when we are thin."
Complete this list: Being thin means I can't:
1) be insecure or quiet or afraid
2) have another chocolate bar as long as I live
3)
4)
5)
Do you suprise yourself with your completion of these statements? Notice how your weight and size speak for you, how they express who you are and how you feel.
(Adapted from Geneen Roth's Why Weight workbook)
All in all, remember this...and have a great week! Go us!!