Biggest Loser Challenge Week 2
11:31 AM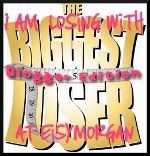 So here we are, entering week 2 of our challenge. I hope you all had a good week!
Remember, it is never too late to start, or start again!
If you blogged about your first week, please leave a comment with your link, or if you are more comfortable keeping it private, email it to me at eisymorgan(at)gmail(dot)com! There are several ladies who are blogging with the posts on private, but send me the link so at least someone has their back! Feel free to do the same and link up
here
My week was a step in the right direction. I did NOT drink as much water as I intended and I didn't keep a food journal. Boooo.
I did work out 5 times this week and paid attention to only eating when I was hungry. Check out my weight loss blog for more details. (leave a comment if you don't have the link and would like it)
So here is the blogging challenge for this week:
Write about ONE failure from the week in regards to this, and how you want to change that
Write about TWO successes and how they made you feel
Thoughts to ponder from Geneen Roth:
"Most of us believe that if we didn't have conflicts with food our lives would be wonderful. We would be happy, beautiful, free. But the truth is that compulsive eating takes up a HUGE amount of our time-thinking about it, planning binges, worrying about our bodies, strategizing about how different life will be when we are thin. Without compulsive eating, our lives really would be drastically different.
What would your life be like if you were thin? If you were to live with no conflicts about food, how would the way you live and the quality of your days be different?"
Complete the following sentence:
If I didn't have conflicts about food....
(ex. I would have more energy, my friends would feel threatened by me)
I would.....
My life would.....
My friends would...
My family would...
My days would...
My dreams in life would...
(adapted from Geneen Roth's workbook Why Weight)
Remember that how you think really drives how you live.
I will write more about my journey with this the past week at my weight loss blog.
It is never to late to start, or start again. The secret to success is support, right ladies?
Grab a button (in the side bar) and join us!