Biggest Loser: Blogger Style
9:13 PM
Alright friends...
Weather it's 5 or 500 there are a few of us out there that would like to lose some weight. It's been a comfortable friend for a while but it's not been a good friend, so it is no longer wanted. Goodbye, you fluff.
So much of our failure is all in our heads. We have decided we will fail before we even start trying. If you want a good reminder read my friend
Ginger
's story of losing 100lbs. The battle wages in our minds, and I am ready to start fighting, because I am worth it, and so are you!
I would like to invite you to join us in the....
Every week I will post the
Biggest Loser Blogger Edition
Linky Party so new people can join us and so we can visit one another and give encouragement to each other. My hope is that one of us will have an amazing week on the weeks that the others are struggling and vice versa. I have a weight loss blog that I am going to keep everything on for myself, including stats, photos, and a video diary
here
. As scary as it may be, I am brutally honest there. If those people on the show can be so brave, so can I. I have had that blog on and off for a couple years. So the ones from last summer and before mostly were me losing most of my baby weight. I just got off track and I am going to get back on.
Every week I will have a posting challenge that we can all blog about and we can check on and support each other. Maybe Saturday's would be a perfect day since it is a generally slow blogging day and we think "its the weekend, lets EAT!"
So all, link up and let's do this together. I am going to run this for three months, and anyone can join between now and then. I need ideas for the person who has the highest percentage of weight lost. I was thinking all who join could send them something of their personal choice. An award, a gift card, a crafted item. I would hope by the time this is over we will know each other well enough to know what would be awesome for that person!! Leave me comments with your ideas:)
Week One Blog Challenge:
This week take a before picture...(you don't have to post it but it will be nice to have when it's the OLD you)
Take your measurements (sometimes we lose inches instead of weight, so we can measure by more than the scale)
Increase your water intake (this is always the number one thing all programs encourage. Ideally we should drink 4, 16 oz water bottles a day. Good for detoxing)
Consider keeping a food journal. No matter what eating process you decide to use, we will be more aware of how much and what we are eating if we write things down.
Blog : sometime this week blog about these three things
What you want to accomplish. Set realistic goals, not 100 lbs by May. Besides the obvious number on the scale think outside of weight loss alone; being less easily winded, more energy, better sleep, healthier self image, strength. This is not about being a perfect size, this about being a better us, a little more one day at a time.
Plan of attack. Here you can talk about what changes you want to make. Start small; do strength training twice a week, talk 2 walks, cut out fast food. Whatever it is you decide, it will help to get our goals in front of us so we know what we are aiming for. "If you aim for nothing, you will hit it every time."
Hang ups. Write about what has tended to get you stuck in the past. Is it when you don't see immediate success? Is it how you talk to yourself? Is it your fear of failure? (These are mine..ha)
Grab a button :) (It's fixed now, sorry!)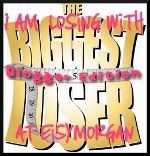 Link Up!!
Want to share the party on your page? Get the link here!